The words "crowning glory" could mean many things. Nevertheless, when someone mentions these words in the same context as her hair, she is referring to something special.
Indeed, when you mention the words crowning glory in relation to your hair, you are obviously referring to an impressive or important part of you. It's like saying that your hair is beautiful and that it is one of your best features; one that you are extremely proud of.
Now imagine yourself on your wedding day.
On that special day, all eyes are trained on you. As such, you would want to be the epitome of beauty by being the perfect bride. However, it takes more than just a lovely dress to complete your wedding look. You need to look perfect from the tips of your toes to the crown of your head.
Of course, achieving perfection on your wedding day can cost you wads of cash on top of the other wedding expenses. This is one reason why many brides these days are leaning towards do-it-yourself wedding hairstyles. Not only does this make the wedding extra special (you have to admit that doing your own hair on your wedding IS special – a labor of love) but it also saves you money for other important things like food for the reception, flowers for the ceremony, dresses for the entourage.
If you are considering trying some DIY hairstyles for your wedding, it is essential to start planning and experimenting ahead of time. This will help you make a decision on what specific hairstyle you will don on your special day. Here are some of the best ideas for do-it-yourself hairstyles on your wedding day:
1. Side Swept Chignon – For a bride-to-be aiming for a cool and casual look, this hairstyle might be the one for you. You can do this hairstyle, which adds a modern twist to the classic chignon, in a few minutes. Picture yourself wearing a loose, effortless, and perfect coif. This is ideal for medium to long hair and you can easily complement it with any type of veil.
2. Hair Half Up – You probably referred to this hairstyle as the "half moon" when you were much younger. This is one of those DIY hairstyles serving a perfect balance between free-flowing hair and classic up do. The purpose of this hairstyle is to present the face fully, minus any distractions, while still maintaining the feminine appeal by keeping loose locks. The hairstyle can also highlight hair accessories like a beautiful tiara or headband. It's up to you if you want to keep the loose locks straight or curly. You also get to decide how you fix the front (upper) half of your hair. With this hairstyle, there wouldn't be any need for hair restyling after the veil comes off for the reception, making the hairstyle very versatile.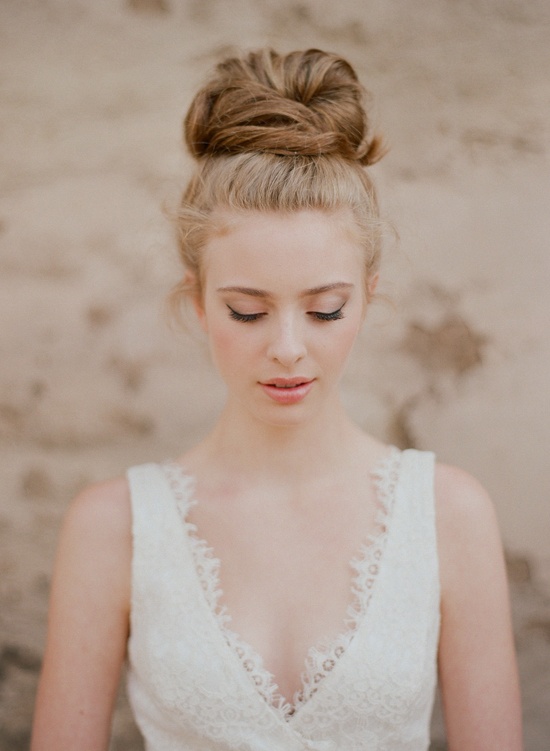 3. Sleek Bun – The bun is probably the easiest bridal hairstyle to do and maintain. This hairstyle, in all its simplicity, brings everyone's focus on your face, your dress, and your makeup. It is also ideal during summer weddings. Moreover, it's a fuss- and hassle-free hairstyle as it secures everything in the bun and prevents the heat from wreaking havoc on the hairstyle. Most modern brides prefer this no-nonsense hairstyle simply because of the timeless classiness it exudes. When a bun is well done, it can stay beautiful and in place from the pre wedding photography up to the last dance of the evening.
These top three DIY hairstyles will surely make your wedding day more personalized while saving you some money for other important wedding matters.